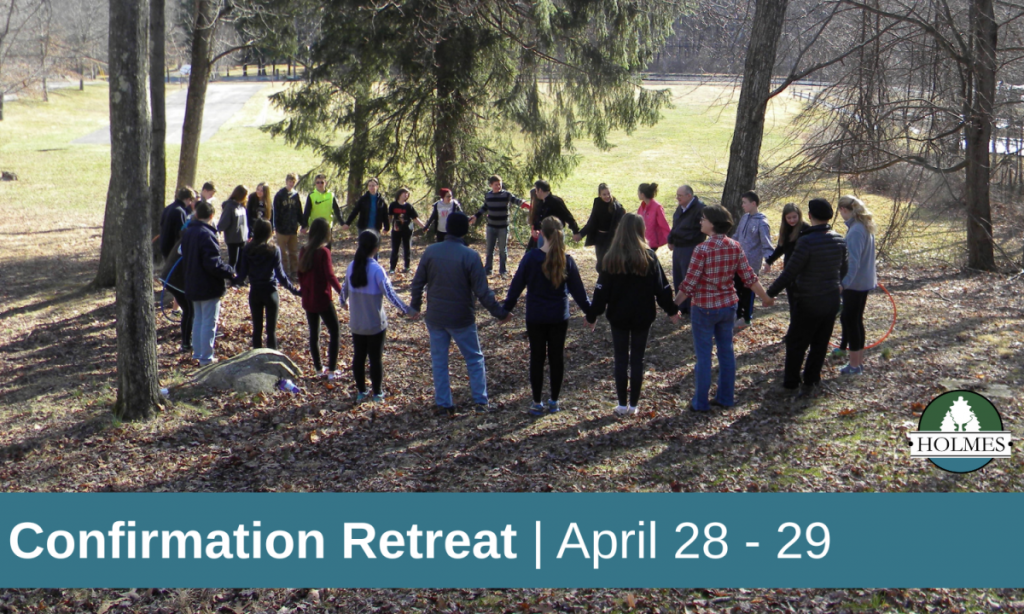 WELCOME LETTER
PRINTABLE CONFIRMATION CLASS INFORMATION

Holmes annual Confirmation Retreats are one of our most popular programs! Explore faith and fellowship with youth from across NYC, Long Island, and the Hudson Valley. This program is designed to serve youth confirmation classes and their adult leaders, and includes meals, lodging, and programming for youth and adults.  
2023 Theme: Beyond Sunday Morning
Take time to notice. Take time to practice.
Lead by: Rev. Dorinda Violante
$149 Youth/ $99 Adults
(Need based financial aid may be available. Contact 845.878.6383 ext 1 for more information.)
About the Program
Each of our days has a rhythm. We wake up. We eat. We go to school. We participate in the things our days bring us. We work. We play. We eat again. We go back to bed.
We are called as disciples of Christ to co-create a world that God dreams of, and that Jesus told us was possible. What would it be like if we had touchpoints during the day, and the week, that invited God into our ordinary rhythms? When we see some of our ordinary activities as Christian practices, we come to notice that our daily lives are tangled up with the things that God is doing in the world.
Meet our Leader
Rev. Dorinda Violante is the pastor at Denton Presbyterian Church in New Hampton, located in Orange County, and is currently the moderator of Hudson River Presbytery.
Pastor Dorinda is a longtime friend of Holmes and has partnered with youth and families both in the church and retreat settings. Dorinda is a Hudson Valley native and has served in both Union Church-Newburgh and First Presbyterian Church of Katonah. On sunny days, Dorinda can be found hiking a trail or working in her vegetable garden. On a more dreary day, she might be found watching Netflix while she knits or working on a jigsaw puzzle.
Embodying spiritual practices is important to Dorinda and she is looking forward to exploring how to add touchpoints with God into various hours of our day.
Parent Information
Arrival – Friday, April 28 at 6pm at Holmes Nunemaker Building (43 Presbyterian Way, Holmes NY)
Departure – Saturday, April 29 at 5pm
Friday night dinner, Saturday breakfast and lunch will be served. Holmes can accommodate most dietary needs with prior notice. Make sure to provide this information during registration.
Nunemaker has bunks and shared bathrooms. Participants should bring sleeping bag, pillow (or other bedding) and towels. (A full packing list will be provided after registration.)

Church Information
Any churches sending youth are asked to send at least one leader or chaperone if possible. (If sending more than 8 youth, we ask that you send two adults.)
Pastors or confirmation class leaders who would like to get your class set up for registration or would like more information, please email holmes@holmescamp.org or call 845-878-6383 ext 1. Holmes will need the number of expected participants to provide you with your churches exclusive registration code. Churches will then provide parents and adult attendees with the code and direction to our Registration Page above. Parents must register their own children. (There will be important health, dietary needs and waivers that must be eSigned by parents and all adult participants.)

Once all participants for your church are registered, Holmes will send the church an invoice for payment.