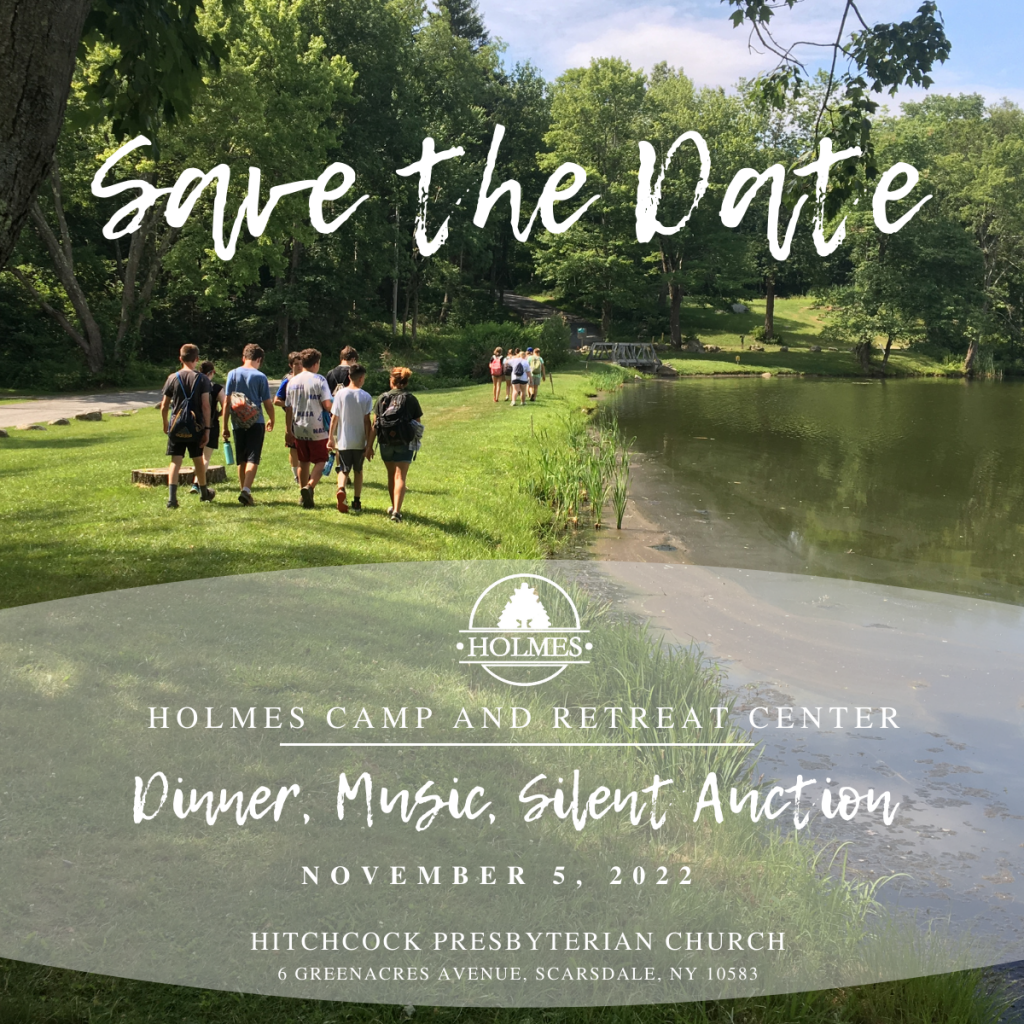 November 5, 2022
Hitchcock Presbyterian Church
Scarsdale, NY 10583
More Details to Follow
Look Back at 2021 Holmes 75th Anniversary Celebration
The Holmes 75th Anniversary Celebration Rocked! Thanks to everyone who pitched in to make the Holmes 75th Anniversary Celebration a huge success!  We enjoyed crisp fall weather and stunning foliage, bid on one-of-a-kind silent auction items, ate great food prepared by chef Mark Ainsworth, and chimed in on the old camp songs. It was a weekend of fun, fellowship and fund-raising on behalf of Holmes, with repair and renovation of Nunemaker Lodge a major beneficiary.  View our Event Journal
Event and Nature Photos by Malcolm Ritter
Additional Photos from Mark Hostetter
*******************************************************************************************
Join us for a Day and Night of Fellowship & Fun!
Saturday, Oct 23 & Sunday, Oct 24, 2021

View Invitation

The fun starts on Saturday, Oct 23rd. Arrive at camp and take a hike with our Director, Kyle Branin or stay back at camp and relax in the crisp autumn air. There will be afternoon activities; our Fall Dinner Festivities start at 5pm. Say 'Hi' to old friends, browse the silent auction and get ready for a fabulous meal prepared by award winning chef and Culinary Institute of America instructor, Mark Ainsworth and his team. After dinner, we move to the Lodge for live music and a camp fire – with the fanciest Smore's spread you've ever seen!



FOR QUESTIONS OR MORE INFORMATION CONTACT HOLMES@HOLMESCAMP.ORG
Your support will help Holmes as it relaunches to better serve the Hudson River, Long Island and New York City Presbyteries.
COVID PROTOCOLS
As we are planning the festive parts of our gathering, we also want the event to be as safe as possible, and to emphasize that at Holmes Camp we are committed to our values of protecting the least among us. Below are the event's safety protocols which will be updated as necessary. You can also find additional information here holmescamp.org/covid19 or call Associate Director of Programming and Operation, Kyle Branin at 845-878-6383.
Protocols for Anniversary Celebration, Sat. – Sun., Oct. 23 – 24, 2021
• Holmes Camp & Retreat Center encourages all who are able to protect themselves and their community with vaccination against COVID-19, and regular COVID-19 testing as appropriate.
• Holmes Camp encourages unvaccinated guests at the 75th Anniversary Celebration to be tested for COVID within 72 hours before the event.
• Attendees will be asked to fill out a health questionnaire and take a temperature check upon arrival.
• Regardless of vaccination status individuals are to wear a mask in public, indoor spaces except when actively eating or drinking.
• Those who want to dine at a table with only vaccinated people can make that request in advance.
• Masks must cover the nose and mouth; no gators or bandanas.
• Individuals are encouraged to wear a mask in crowded outdoor situations.
• Guests, volunteers, and staff experiencing any COVID-19 symptoms are asked to stay home.
• Holmes Camp & Retreat Center will use enhanced cleaning procedures, including disinfectant fogging/misting of public areas.
• The COVID-19 pandemic is continuously evolving, and the policies of Holmes Camp & Retreat Center may change at any time to reflect new guidance from federal, state, and local authorities.