Holmes Staff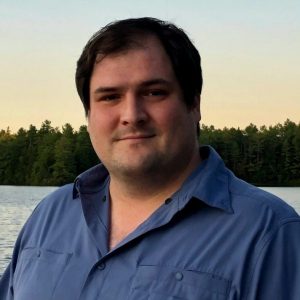 Kyle Branin
Director
Kyle comes to Holmes with fifteen summers working in camps and over a decade of experience as an outdoor and environmental educator, most recently as Teen Programs Manager and Caretaker at Massachusetts Audubon's Wildwood Camp in Rindge, New Hampshire.
Kyle graduated from Southern Utah University where he studied Outdoor Education, and is certified as a Leave No Trace Master Educator and Wilderness First Responder,
Kyle has a commitment to outdoor education and the development of teen leadership. He has worked and volunteered with the Boy Scouts of America, Southern Utah University's Outdoor Engagement Center, the Appalachian Mountain Club, Tenafly Nature Center, Mass Audubon, the outdoor ethics program Leave No Trace, and private guiding companies across the country. He is a founding member of the Professional Development Committee at the New England chapter of the American Camp Association.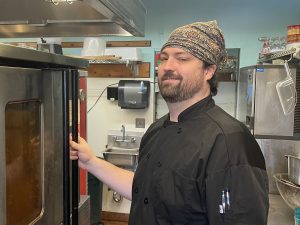 John "J.J." Branin
Hospitality Manager
J.J. started his culinary career at the age of 16 as a dishwasher for a Mexican restaurant in his hometown of Cedar City, Utah. However, his desire to do good in the world started from childhood with the values instilled by his loving family and his faith.

Taking the exhortation to "feed my sheep" somewhat literally, he pursued a career in food and hospitality knowing that providing people with good food and the small comforts of life was a powerful way to better not only their lives but his own as well.

After years of working at mountain resorts and for a non-profit hospital. J.J. and his wife Ashley packed up their lives out West and moved to Holmes where J.J. is afforded the opportunity to share both his love of food and his desire to make a positive difference in people's lives.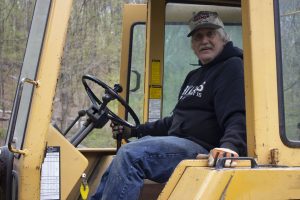 Paul Verdesi
Maintenance Specialist
We are richly blessed to have a person who keeps things running at Holmes Camp and Retreat Center with tremendous ingenuity, tenacity, and talent. Need something fixed? Not only will Paul have the diverse skill and knowledge to fix it, he'll do so with parts from existing inventory. He'll keep in the forefront of his mind questions such as: how can we do this project efficiently, cost effectively, aesthetically pleasing and in the best interest of our campers and guests? And he will think long-term, about how this fix will hold up, and what we'll need to do to keep it operational. He is a remarkable Jack-of-all-trades, master of most.
Paul's first experience at Holmes was in 1968 (the "Summer of Love") as a self-described "Director's Brat." He spent a week at cabin 7 while his father, Rev. Ariel Verdesi, who was serving as chaplain for the week. A few years later he had a memorable experience as a camper with current Holmes Board member Ansley Lamar as his counselor. Paul joined the summer staff in 1975 as a Maintenance Assistant and began his career dealing with all things electrical and mechanical. This was an exceptional summer in Paul's life where he met many of his lifelong friends. Paul returned each summer thereafter, spending the off-seasons as an auto mechanic, and earning master certifications from the National Institute of Automotive Service Excellence. Paul attended Bridgeport University, where he majored in mechanical engineering, and commuted to camp each weekend to help with maintenance projects. In 1982 Holmes Director Don Hostetter asked Paul to come on board full time as part of the Westminster Transformation Fund to help complete the newly constructed Agape Center. Paul later enjoyed working with Interim Director Bill Key whom he considers a mentor. Bill encouraged Paul to become a Standards Visitor for the American Camp Association working to help accredit other camps. A process he enjoyed for ten years. Working on Agape, Paul worked closely with Red Gibson and Davy Nielsen, and met Harry Borg, an electrician who hired him as an apprentice.
Paul earned his Putnam County electrician license and in 1989 was added to The Holmes Camp permanent staff. That same year, he married another Holmes participant and staff member, Brenda Donohue. They constructed their log home on a lot they purchased near Denton Lake. In 1999 Jacob was born, and Benjamin in 2000. He is very proud that Jake and Ben are part of a group of kids that call themselves "Camp Cousins" many of whom are offspring of the summer of '75 staff. The entire family is devoted to Holmes, it's in their blood. Paul keeps a watchful eye at all times and gives tender loving care to our infrastructure and equipment. If there's a problem, anytime day or night Paul responds and manages the issue. We are richly blessed by the skill, devotion, and loyalty of Maintenance Specialist Paul Verdesi.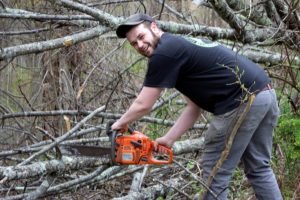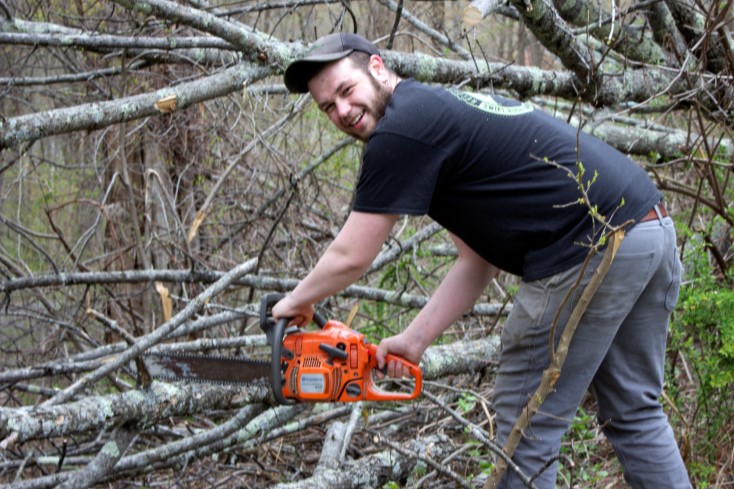 Ryan Kraus
Caretaker
It is not hyperbole to say that Ryan Kraus grew up at Holmes Camp. He started at age eight accompanying his father to work and about the same time became a camper at sessions specializing in archery, and culinary arts. He and his brother fostered a love for being outdoors while exploring the many little known nooks and crannies of camp.
Ryan had a particular interest in, and respect for, the infamous Lemonsqueeze (a large rock split in two where brave campers and staff traverse from one end to the other, just off the yellow trail). He helped wherever he could, but as soon as Ryan turned 14 years old he obtained his work permit and started his first official job he describes as "Dishboy." Over the years, his role was expanded until he was engaged in just about every aspect of Camp Kitchen work. After work he was often welcomed into the community. He was particularly fond of campfires and square dances. When Ryan turned 18 he was able work outside the kitchen assisting with maintenance of the camp. During this time he developed skills both at camp, and at other jobs. Ryan has worked at a golf course, a ski lodge, a hay farm, an automobile repair garage and an excavation company. Ryan has become a diverse and skilled employee who can take on different roles as needed.
Last January, Ryan was promoted to the position of Groundskeeper. 550 acres is a lot of ground to keep, and you'll often see him atop a riding mower or edging the lawn. But his many skills come in handy all over camp and he is always willing to help with whatever is needed. Ryan always is on the lookout for things that need to be done. He credits his many hours outdoors with fostering his love of hunting and fishing. He also believes that his work has caused him to be more observant, and notice little things. Many a frog at Holmes Camp can give thanks for this trait as Ryan will often slow down and move them along as the riding mower approaches.
Ryan believes deeply in the work at Holmes Camp and is grateful for how it has helped him learn. He says that he's glad to work to maintain a place that is important to so many people, a place where anybody can come, help, and belong. The next time you arrive at Holmes Camp and Retreat Center, take a look around and realize that quietly in the background, Ryan is working hard to make your experience possible.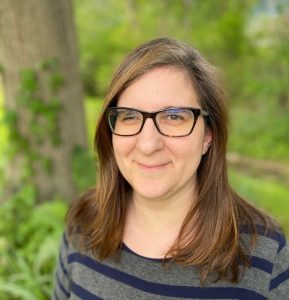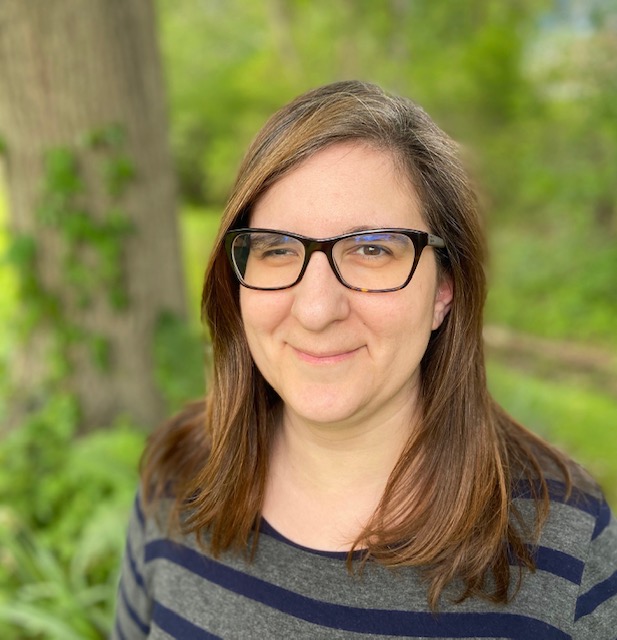 Grace Buck
Administrator
Grace Buck joined the Holmes family in December of 2019 as our Office Administrator. She is your first point of contact when reaching out to Holmes, works with rental groups and is responsible for our weekly Enewsletter – among other things! And, like all of our staff, Grace is always ready to jump in wherever an extra hand is needed.
Prior to joining Holmes Camp and Retreat Center, Grace worked as a Development Assistant for Legal Services of the Hudson Valley. Before Legal Services, she spent 14 years as the Community Outreach and Events Manager at a local Land Trust. Professionally, she brings to the camp her love of organizing events, working with community and volunteer groups and more than 20 years of fundraising experience.
Grace grew up in Putnam Valley, NY then moved to Patterson, NY – a stone's throw from the Camp . She spent weekend of her youth in Holmes, NY at her Grandparents house on Drew Road – and remembers fondly long walks on Ludingtonville Road and feeding the duck in the lake – back when there was still water in it! As a kid she spent summers camping in Upstate New York.
In 1997 she married Rob Buck. They spend the next six years moving around the east coast during his time in the Navy. They finally settled in New Fairfield, CT where they are raising their two children. Grace has been a Girl Scout Troop Leader and is currently a volunteer for Boy Scouts. In her spare time she can be found crafting or snuggling with her dog, Oliver.
Board of Directors
President: Mark Hostetter
Vice President: Paul Alcorn
Treasurer: Ralph Penny
Secretary: Linda Burpee

Board Members:
Hudson River Presbytery

Linda Burpee
Ralph Penny

Ex-Officio
Deborah Milcarek, General Presbyter

Board Nominated Members

Liann Ainsworth
Paul Alcorn
Kathy Frost
Mark Hostetter
Flora Wilson Bridges


Long Island Presbytery

Frank D'Andrea
Gary Wolf

Ex-Officio
Mark Tammen, General Presbyter
New York City Presbytery

Jane Ritter

Ex-Officio
Mary Newbern-Williams, Gap Presbyter