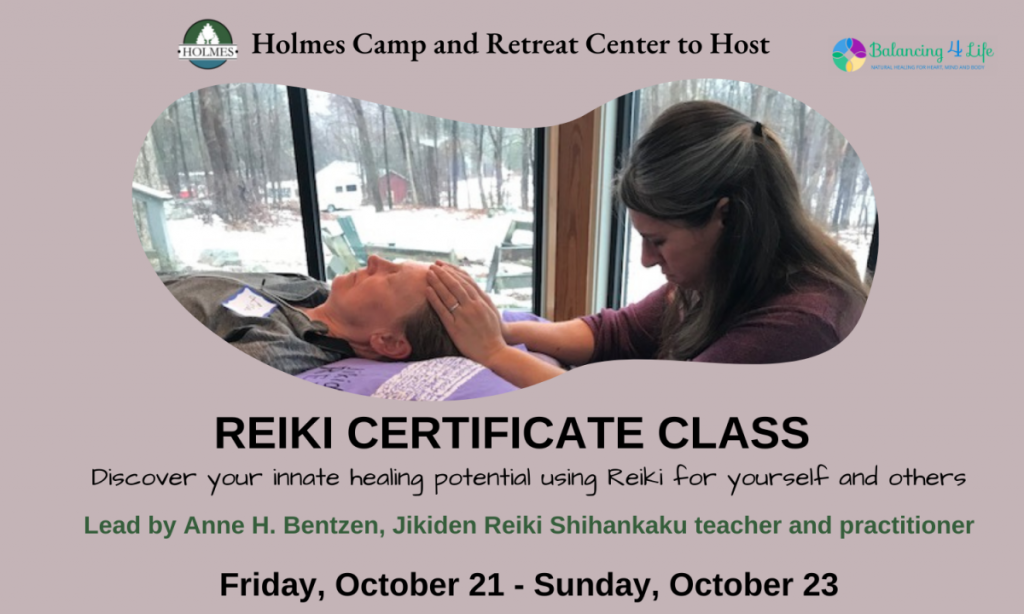 Jikiden Reiki Seminar
Back by popular demand; join us for a Jikiden Reiki Shoden Seminar, offered in partnership with Balancing 4 Life of Pleasantville NY.
Shoden is the beginning level of Reiki. You will learn how to give the physical direct Reiki treatment. Enjoy being surrounded by the wooded campus of Holmes Camp & Retreat Center for learning the Japanese healing method of Reiki as originally taught. A Jikiden Reiki retreat gives you the ultimate learning experience over 2 1/2 days for feeling energy, connecting with the essence of the Reiki principles – the Gokai- and acquiring confidence in your ability to offer Reiki to others as a friend or a practitioner. Each student receives 3 Reiju and learns 1 shirushi.
Registration is $595 and includes comfortable lodging, all meals, programming, and a Japanese/English certificate. Commuter rates also available.
Reviewing students always welcome; contact us for special pricing. Class size limited. Early registration highly recommended.
Contact Holmes Camp & Retreat Center for questions about registration or lodging.
For questions about the program please contact Anne Bentzen at Balancing 4 Life, 914-588-4079