Thank you for supporting the ministry at Holmes!
Using your phone, look for @holmescamp
on your Venmo account. Validation digits: 6458
2021 Winter Appeal
Looking towards 2022 there is the potential for amazing things! Holmes is blessed with passionate volunteers, generous donors, an active board of directors, a rich history, and a stunning location with extensive infrastructure. Holmes Camp & Retreat Center is looking forward to winter retreats, spring confirmation retreats and camp rentals, and introducing our Snow Place Like Holmes family dinner and camp benefit this coming February. We are also excited to resume our own residential summer camp with revamped programming and new options for teens in summer 2022.
However, as we look towards the future, we also face some challenges. Most immediately, the COVID-19 pandemic wears on, impacting our capacity and program options as we strive to keep our community safe. The associated staffing and supply chain complications also impact us deeply.
And apart from the short-term challenges of the pandemic much of our infrastructure is aging and requires significant ongoing maintenance or major repairs. We are actively renovating Agape in an ongoing project, and a due to water damage Nunemaker requires significant repairs before it can again welcome in campers, churches, and families. Holmes relies on program income and generous donors to address projects like these.
Please consider a contribution to Holmes. Use the buttons above or mail your check payable to Presbyterian Conference Association to:
Holmes Camp and Retreat Center
60 Denton Lake Road
Holmes, NY 12531
Holmes Camp Memory Wall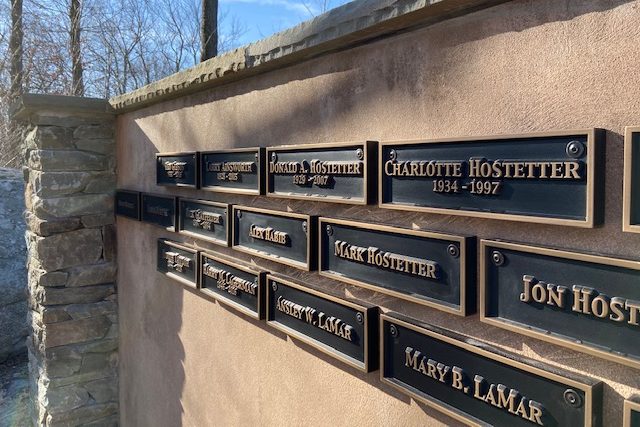 The memory wall is a place of calm reverence, set among the forest and granite rock, overlooking the west valley from the Agape Center mountaintop. Memorial, or honorary plaques may be arranged for yourself or a loved one, through a donation to Holmes Camp of at least $1,200. (Holmes Camp is a 501(c)(3) charitable organization and your gift is deductible to the fullest extent allowed by tax law. )

Memory wall application forms can be printed HERE. Please complete the application in full and submit payment above by credit card or mail your donation and form to the address above – Attn: Memory Wall. Placement is in order of subscription, and you may request multiple plaques be placed together.
Donations by check can be made payable to: Presbyterian Conference Association and mailed to:
Holmes Camp and Retreat Center
60 Denton Lake Road
Holmes, NY 12531
Recurring Donations
Set up a recurring donation using your donor log-in (the same as your registration log in!) Processed by credit card. This is a separate process from the one time credit card donation above.
Gifts of Stock
Holmes is grateful for gifts of stock. Provide this information to your financial institution. Reach out to Holmes@HolmesCamp.org if you need more information.
Amazon Smile
You can also support Holmes with your regular shopping through AmazonSmile.com! When you shop through Smile.Amazon.com, select "Presbyterian Conference Assoc Inc", and the AmazonSmile Foundation will donate 0.5% of all eligible purchases.

Click here to enjoy our 2020 Virtual Gala! We are grateful for your support!
Contact us if you have any issues or questions about donations.
Individual contributions of any amount are always welcome, and make an enormous difference in bringing the Center's programs to the largest number of people throughout the metropolitan area. Thank you!
HOLMES Presbyterian Camp & Retreat Center (aka: Presbyterian Conference Association, Inc.) is a tax-exempt 501(c)(3) religious organization, and therefore all contributions (but not program or rental fees) are tax deductible to the extent provided by law.