Thank you for supporting the ministry at Holmes!
Using your phone, look for @holmescamp
on your Venmo account. Validation digits: 4472
Support our 2022 Winter Appeal!
As we near the end of the year it is a natural time to look back at the year that was, and forward at the year to come. 2022 has been a busy year here at Holmes as we continue to rebuild and reimagine towards a bright future.

This year has had many highlights, with some of the highpoints including:

· Investment of over $100,000 in repairs and renovations in Nunemaker, one of the largest investments in the building's history.
· Renovations continuing apace in Agape. The building is sporting all new roofs, upgraded siding and insulation, and we have begun to renovate and remodel interior spaces.
· Growing the Holmes team and welcoming new members in hospitality, facilities, and administration.
· Hosting camps, retreats, and rentals from across the region; and around the world. Since late spring rentals and leasing have returned to, and in many months surpassed, pre-pandemic levels.
· Making major strides in better stewarding creation with completed or ongoing projects to reduce our carbon footprint and better care for the 550 acres we are blessed with—with an eye towards conservation. Additionally we have transitioned housekeeping and kitchen operations to biodegradable and eco-friendly cleaners, soaps, and sanitizers and taken steps to reduce the use of single use plastics.
There are exciting opportunities on the horizon. As the demographics of the church continue to change we look forward to serving the current needs of our churches and community by launching our busiest ever calendar of original adult retreats and activities in 2023. We are continuing to offer, and expand, our development opportunities for faith leaders. Holmes Camp is exploring new programs, partnerships, and other ways of connecting youth with each other and their faith. And—as always—Holmes provides comfortable, affordable spaces and program support for churches and other nonprofits to host their own workshops, conferences, and retreats.
However, as we look towards the future, we also face some challenges. The overall economic situation continues to have major impacts on the cost and availability of food, supplies, and equipment needed to operate; meanwhile high inflation and low unemployment combine to make hiring challenging. Despite significant investments in Agape and Nunemaker, we have much more we would like to accomplish, as well as the ongoing costs associated with an aging facility.
To face these challenges and embrace these opportunities Holmes Camp & Retreat Center depends on support from individuals, congregations, and organizations. We are thankful for all the ways our community does support us, through booking retreats, attending programs, volunteering time, and generous financial support through the year.
We truly can do it without you, and we hope you'll join us to bring Holmes into a bright future.
Please consider a contribution to Holmes. Use the buttons above or mail your check payable to Presbyterian Conference Association to:
Holmes Camp and Retreat Center
60 Denton Lake Road
Holmes, NY 12531
If you or your organization is interested in sponsoring a guest room or other specific space for
renovation, please contact us at 845.878.6383 ext. 2 for details.
Holmes Camp Memory Wall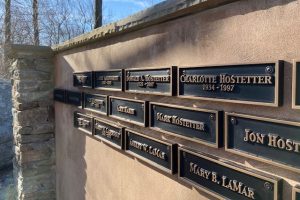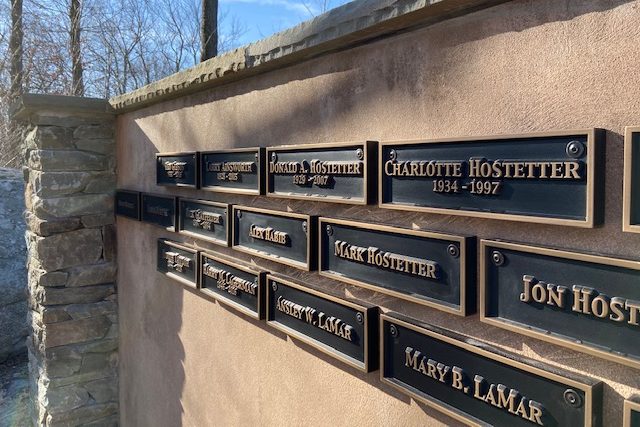 The memory wall is a place of calm reverence, set among the forest and granite rock, overlooking the west valley from the Agape Center mountaintop. Memorial, or honorary plaques may be arranged for yourself or a loved one, through a donation to Holmes Camp of at least $1,200. (Holmes Camp is a 501(c)(3) charitable organization and your gift is deductible to the fullest extent allowed by tax law. )

Memory wall application forms can be printed HERE. Please complete the application in full and submit payment above by credit card or mail your donation and form to the address above – Attn: Memory Wall. Placement is in order of subscription, and you may request multiple plaques be placed together.
Donations by check can be made payable to: Presbyterian Conference Association and mailed to:
Holmes Camp and Retreat Center
60 Denton Lake Road
Holmes, NY 12531
Recurring Donations
Set up a recurring donation using your donor log-in (the same as your registration log in!) Processed by credit card. This is a separate process from the one time credit card donation above.
Gifts of Stock
Holmes is grateful for gifts of stock. Provide this information to your financial institution. Reach out to Holmes@HolmesCamp.org if you need more information.
Click here to enjoy our 2020 Virtual Gala! We are grateful for your support!
Contact us if you have any issues or questions about donations.
Individual contributions of any amount are always welcome, and make an enormous difference in bringing the Center's programs to the largest number of people throughout the metropolitan area. Thank you!
HOLMES Presbyterian Camp & Retreat Center (aka: Presbyterian Conference Association, Inc.) is a tax-exempt 501(c)(3) religious organization, and therefore all contributions (but not program or rental fees) are tax deductible to the extent provided by law.