Thank you for supporting the ministry at Holmes!
Using your phone, look for @holmescamp
on your Venmo account. Validation digits: 4472
Support our 2022 Summer Appeal for The Agape Center
Help us get to $30,000 to meet our Challenge Grant!!
For forty years the Agape Center has welcomed guests young and old from across New York and around the world to share in our hospitality and community. The Agape Center offers comfortable lodging, meeting rooms and common areas, spaces for study or relaxation, and, of course, wonderful food. Over the years it has served as not only the heart of rental and retreat programming, it has also supported ministry and mission by providing lodging and meals during disaster, space for worship services across many faiths, and a place of refuge and Christian love for countless
individuals.
After forty years and tens of thousands of guests the building is well-loved and wearing down, and is in need of renovation and modernization that goes beyond regular maintenance. Holmes Camp & Retreat Center has already raised over seventy thousand dollars and allocated significant operating budget towards the revitalization of Agape. Renovations and repairs are already well underway! The building has been reroofed and resealed, and siding has been replaced in key areas. We have begun updating HVAC systems in the guest rooms for improved efficiency and comfort.
But there is still a long way to go for the Agape Center to re-become the comfortable community space we know it can be. We still need to repaint, repair, or replace additional siding to complete the exterior work. And inside the building we are just getting started! Lighting and bathroom fixtures are being upgraded to reduce our environmental impact; common areas are being re-imagined and remodeled on a rolling basis to minimize disruption of camps and retreats; and we are beginning to design and plan for renovations of guest rooms.
Help us revitalize the Agape Center and double your impact this summer with a donation towards continued renovations at The Agape Center at Holmes. If we are able to raise $30,000 for continued repairs and improvements, that amount will be matched through a challenge grant generously funded by members of the Holmes Camp community. Your generosity in helping us reach this goal will allow us to complete the planned exterior work, update the HVAC in the remaining guestrooms, and continue renovating common areas.
Please consider a contribution to Holmes. Use the buttons above or mail your check payable to Presbyterian Conference Association to:
Holmes Camp and Retreat Center
60 Denton Lake Road
Holmes, NY 12531
If you or your organization is interested in sponsoring a guest room or other specific space for
renovation, please contact us at 845.878.6383 ext. 2 for details.
Holmes Camp Memory Wall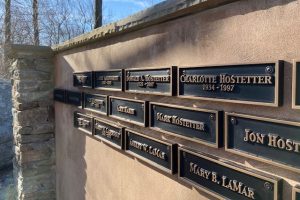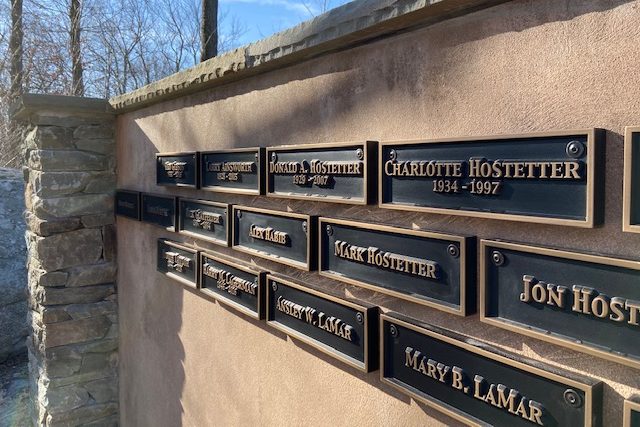 The memory wall is a place of calm reverence, set among the forest and granite rock, overlooking the west valley from the Agape Center mountaintop. Memorial, or honorary plaques may be arranged for yourself or a loved one, through a donation to Holmes Camp of at least $1,200. (Holmes Camp is a 501(c)(3) charitable organization and your gift is deductible to the fullest extent allowed by tax law. )

Memory wall application forms can be printed HERE. Please complete the application in full and submit payment above by credit card or mail your donation and form to the address above – Attn: Memory Wall. Placement is in order of subscription, and you may request multiple plaques be placed together.
Donations by check can be made payable to: Presbyterian Conference Association and mailed to:
Holmes Camp and Retreat Center
60 Denton Lake Road
Holmes, NY 12531
Recurring Donations
Set up a recurring donation using your donor log-in (the same as your registration log in!) Processed by credit card. This is a separate process from the one time credit card donation above.
Gifts of Stock
Holmes is grateful for gifts of stock. Provide this information to your financial institution. Reach out to Holmes@HolmesCamp.org if you need more information.
Amazon Smile
You can also support Holmes with your regular shopping through AmazonSmile.com! When you shop through Smile.Amazon.com, select "Presbyterian Conference Assoc Inc", and the AmazonSmile Foundation will donate 0.5% of all eligible purchases.

Click here to enjoy our 2020 Virtual Gala! We are grateful for your support!
Contact us if you have any issues or questions about donations.
Individual contributions of any amount are always welcome, and make an enormous difference in bringing the Center's programs to the largest number of people throughout the metropolitan area. Thank you!
HOLMES Presbyterian Camp & Retreat Center (aka: Presbyterian Conference Association, Inc.) is a tax-exempt 501(c)(3) religious organization, and therefore all contributions (but not program or rental fees) are tax deductible to the extent provided by law.