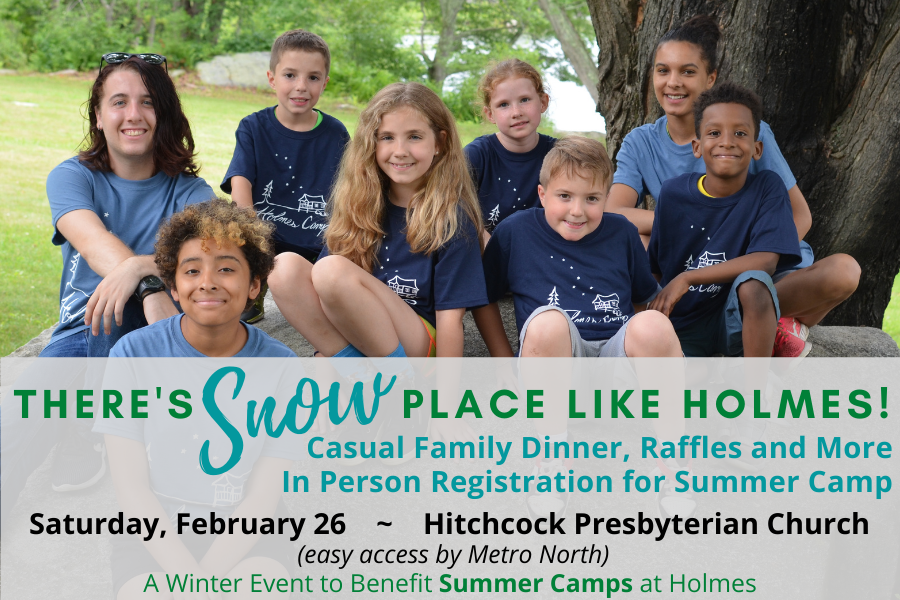 Join us for fellowship, raffles, and a delicious twist on a classic camp meal to support summer programing at Holmes Camp & Retreat Center.
Holmes Camp & Retreat Center is excited to re-launch Summer Camp and other youth programming following two summers off! However, this comes with challenges as well. We need to open mothballed facilities, hire staff, and invest in the program, and we'd like your help!
Holmes Camp & Retreat Center will be hosting a family dinner & raffle to benefit summer programs on February 26th at Hitchcock Presbyterian Church. We hope you'll join us for food, fun, and fellowship, and to hear about the exciting things we have planned.
Admission and dinner is $20 each, or $75 per family (4+ people). We will be serving some Holmes Camp classics, but dressed up for their big night in the city. However, you don't need to dress up; dinner is casual and you are invited to come and go at anytime.
In addition to dinner there will be a raffle for some great prizes, and information on upcoming programs and volunteer opportunities.
You will be able to register for camp in person at the event, and deduct the cost of your family's tickets from the price of summer camp. There will also be a limited supply of Holmes Camp memorabilia available for purchase.
All funds raised support summer camp programs and facilities at Holmes Camp & Retreat Center.
COVID-19 Policy: Holmes Camp does our best to stay up-to-date on current recommendations, and implement policies to reflect them. Considering the rapid onset of the Omicron variant and the everchanging face of the pandemic final procedures for this event will be sent by email to all registrants one week prior to the event; this may include masking, a vaccination or test requirement, social distancing, event cancellation, or other measures. If the event is cancelled you will have the option for a refund of your full ticket price.
Located at 6 Greenacres Avenue in Scarsdale, NY Hitchcock Presbyterian Church is centrally located for the three Presbyteries served by Holmes, and has easy access by public transit or car.
The church is a three minute walk from the Hartsdale station on the Harlem line of the Metro North Railroad if you would like to arrive by train (a 35-50 minute ride from Grand Central). Hartsdale Station is also served by a number of bus lines.
For those driving from the Hudson River Valley, HPC can easily be reached by taking the Bronx River Parkway or New York 22; limited parking is available at the church, or the nearby train station. To drive from Long Island take the Whitestone Bridge to the Hutchinson River Parkway.
Please contact us camp@holmescamp.org or call 845-878-6383 with any questions.