Saturday, October 5, 2019, 8:30-4:00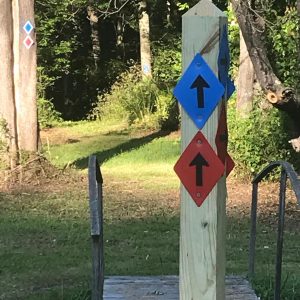 Donuts and Coffee at 8:00 am. Work starts at 8:30. We go to about 3:30 or 4:00. We will be meeting at the LODGE
In addition to wrapping up camp and preparing for fall, we have been busy remarking our
trails
!
Many of the
Holmes
trails
lost their blazes when trees fell down after the tornadoes went through the area about a year and a half ago.
Several
trails
became impassable. Our staff and volunteers have hiked these
trails
and have been blazing as much as they can. We are adding new markers to show where
trails
start, intersect, and end.
Now we need your help! Our
trails
still have some debris on them and are in need of some TLC. Please join us on Saturday, October 5th for a work day.
If you are comfortable using a chainsaw, please bring it! If not, please bring your own hand loppers, brush cutters, work gloves, and hand tools if you have them to help!
Do to safety concerns around the work being done, please to not bring children under the age of 13 to this event. Anyone under 18 should be accompanied by an adult.
If you let us know that you are coming by September 27, we will provide you lunch. If you decide at the last minute feel free to bring a picnic lunch to enjoy with the foliage and good company!
Are youth groups welcome?
You bet! But please call us and let us know how many are planning to come and what the age groups are. We will not put your group out with a work party using chainsaws. If the 13 year old age limit creates a divide for your group, call us and we'll work out details. Since this is work involving tools and sharp blades, we ask you to bring one adult for every four young people. And also bring the yard equipment listed above.
Contact us with questions.