Holmes Presbyterian Camp and Conference Center announces that Rev. Peter Surgenor, Executive Director will retire on August 31, 2017.
Peter has led and developed the camp m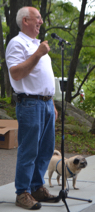 inistry and activities at Holmes since January 2000.  During this time summer camper numbers and program quality have grown with added programs including (night owl, archery, culinary and horseback). Facilities have seen improvements including Scudder Pavilion, renovations at Denton Dining Hall, Don's Diner, Nunemaker and Westminster Lodge as well as continuing planning for an expanded Agape facility. During his tenure 71 acres of neighboring land have been added to bring the Holmes Camp land resource to 540 acres.  Peter has been a resource person to all three of our supporting Presbyteries (Hudson River, Long Island and New York City) and has built relationships with many committed Presbyterians and others.
In addition to summer camp, ministry partners have included Auburn Seminary's Face to Face/Faith to Faith program for 11 years, Family retreats from First Presbyterian Church, Brooklyn and Fifth Avenue Presbyterian Church, Accion Hispania and Rural and Migrant Ministry.  Hudson River Presbytery began a habit of meeting at Holmes and for the last three years New York City Presbytery has traveled to Holmes for a fall meeting.
During his tenure at Holmes, Peter twice served on the Board of the Presbyterian Church Camp and Conference Association including a term as President (2001-2004) in addition he served two terms on Board of the American Camp Association including a term as President (2008-2011).  He has been active on church development and grants committees of the Synod of the Northeast.  Peter is currently the Moderator of Hudson River Presbytery.
Peter is a graduate of Hamilton College and Pittsburgh Theological Seminary with additional graduate work at Slippery Rock University and Pittsburgh Seminary.  For ten years Peter was one of the faculty members of the American Camp Association Camp Director Institute (a master camp director seminar)
The Board of Holmes Presbyterian Camp and Conference Center has been planning for this transition and will be announcing a search process shortly.  Interested persons or your suggestion of potential candidates should be emailed to EDSearch@holmescamp.org.
During his time at Holmes, Peter met and married Rev. Cathryn T. Surgenor.  They have five daughters, four sons in law and five grandchildren spread from Helena, MT to Foxborough, MA.  Peter and Cathy will be moving to Newburgh, NY and look forward to volunteering with Habitat for Humanity in Newburgh, Presbyterian Peace Fellowship Accompaniment in Colombia and other activities.
A recognition of Peter's ministry at Holmes is being planned by the Holmes Board  for September 16th at Holmes.  In addition, New York City Presbytery will recognize this milestone at its Annual Meeting on May 16, 2017 and Hudson River Presbytery will recognize Peter's retirement at its meeting on Sept 19,2017.