Long time Hudson River Presbytery member, 
Reverend Ariel Verdesi
, quie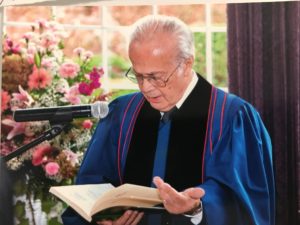 tly joined the Church Triumphant and Eternal Saturday afternoon July 8th. He was the beloved and faithful pastor at the Congers Presbyterian Church for over 40 years and had been very active on the Holmes Board during his ministry, having served more than one term as the President. There will be a Service of Witness to the Resurrection at the Congers Presbyterian Church at 1:30 pm on Sunday July 16, 2017.  Congers Presbyterian Church, 17 Highway Ave, Congers, New York  10920.
Please keep his children, Paul Verdesi and Lora Mattiaccio, and their families, in your prayers as well as the entire Congers church family.
In life and in death and in all our circumstances, we belong to God and each other. Thanks be to God.
Ariel Verdesi had early camp experiences at Camp Sharparoon in Dover, NY.  He was ordained into the ministry of the Presbyterian Church in 1955.  He served the New Hempstead Presbyterian Church in New City, NY, as a chaplain at the Rockland Psychiatric Center and the Congers Presbyterian Church.  He was moderator of Hudson River Presbytery in 1998-99.
Note from Hudson River Presbytery colleague Rev. Peggy Howland:
I guess I go further back with Ariel than anyone else in Hudson River.  We knew each other in Palisades Presbytery in the early 60's.  His wife had a surprise 25th ordination anniversary for him quite a few years ago, and she had me speak about those early years as a friend and colleague.
And I was first a counselor at Holmes in 1959, so that connection has been around a long time, too.
Wish I could be there for the memorial at Congers, but it won't be possible at this time.