Jikiden Reiki Shoden Course – Original Teaching
Jikiden Reiki Institute, Kyoto, Japan

Reiki is an intuitive Japanese healing art of hands-on-healing originally founded by Mikao Usui in 1922. Reiki is a simple, yet powerful heart centered energy healing practice designed to restore balance and provide spiritual transformation for body, mind and spirit. Reiki relaxes, relieves stress, anxiety, depression, pain and inflammation. It naturally facilitates a detoxification process which helps the body restore well-being on all levels.  The Jikiden Reiki Institute of Kyoto, Japan has preserved the original teachings of the founders of Reiki. "Jikiden" means original,  not altered. Reiki level one called Shoden will teach the most direct, original teachings of Reiki available. Students will learn the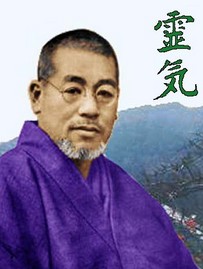 history of Reiki, the 5 principles established by the founder, MIkao Usui and learn to feel and discriminate energy during hands on treatment practice sessions.  There will be ample time for practice using your "Reiki" hands.  Each student will receive Reiju , a blessing, to enhance ability to channel energy each day (Fri., Sat. and Sun.) as part of the course. Each student will receive a manual from the Jikiden Reiki Institute.  Bring your friends or a family member and learn Reiki together so you have an instant practice partner after the course.
Come discover your ability to learn how to channel healing life force or "Ki" energy for the benefit of others.  Reiki students learn to "feel" energy with their hands discovering where the body needs help the most. Providing "Ki' energy to these areas helps raise the vibrational frequency and improve the health of that area of the body.  Reiki is compassion in action. Though not based on medicine, Reiki is complementary to all traditional medical treatments and is safe in all situations. Reiki supports all ages including pregnancy and animals as well. Using the spiritual energy of the Universe, Reiki revitalizes and heals people suffering from physical and psychological conditions in their daily lives.  Founder, Mikao Usui said, "Every person who learns Shoden has the ability to heal dis-ease in the body."
---

Anne H. Bentzen, MSOT, RMT
Shihankaku Jikiden Reki Teacher
Western Reiki Master Teacher
Licensed Occupational Therapist
www.balancing4life.com
Anne Bentzen has had an established energy healing practice in Westchester County for over a decade.  She is certified by the Jikiden Reiki Institute of Kyoto, Japan as a Shihankaku, junior teacher, for teaching Reiki Level 1 – Shoden.  She has been practicing Jikiden Reiki for 4 years and Western Reiki for 12 years.  She recently retired as an Occupational Therapist from the Ardsley school district where she specialized with special needs and autism.  Anne's work as an allied health professional and an energy healer has enabled her to bridge the gap between traditional medicine and energy healing to help clients achieve holistic results that benefit body, mind and spirit with Reiki.  She regularly teaches Reiki, offers custom blends of Bach Flower Essences, participates in the semi-annual Tarrytown Awaken Wellness Fair and conducts healing circles.  Formal education includes a Master of Science in OT from the Medical College of Virginia and a BS from Bucknell University.  Reiki certifications were received for Western Usui Reiki in 2007 and 2008, Jikiden Reiki certifications were completed in 2013, 2014 and 2019.  Anne is a long time member and elder of the Bedford Presbyterian Church where she sings in the choir regularly.

"We are energy beings. Our bodies reflect our thoughts and emotions. Energy healing offers total well-being for body, mind and spirit through conscious awareness of our true nature."